Beach & Sea View Restaurant in Singapore – 4 Tips For A Perfect Beach Stay!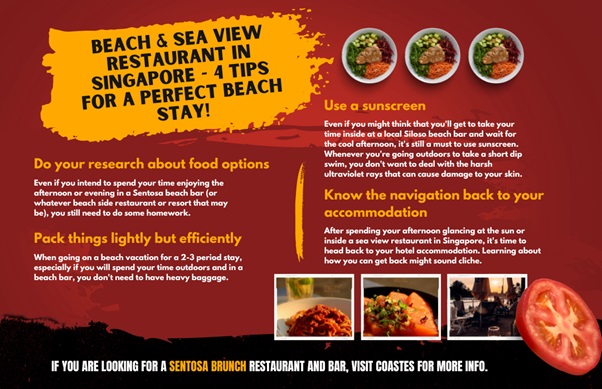 Beaches never fail to entice us and make us dream of the perfect summer getaway or dream vacation. Even though most beaches would look almost in the same fashion as the others, there's always something that makes one more special than another. Whether you're visiting a beach resort or having an enjoyable brunch at a beach side restaurant in Singapore, there's always the thirst and hunger for a flawless beach trip.
Whether you're going to a local Sentosa for brunch or spending your afternoon at the beach bar, there are many things you need to think about for the perfect beach day. Without further ado, here are some excellent tips for a perfect beach day at the beach side restaurant:
1. Do your research about food options
Even if you intend to spend your time enjoying the afternoon or evening in a Sentosa beach bar (or whatever beach side restaurant or resort that may be), you still need to do some homework. It's still a good idea to get to know about food options. We can all agree that food is one of the most important things one would need for the perfect beach escapade. Check the local shacks or menus around to confirm if they have options to cater for your diet.
2. Pack things lightly but efficiently
When going on a beach vacation for a 2-3 period stay, especially if you will spend your time outdoors and in a beach bar, you don't need to have heavy baggage. Contrary to what most would do, you only need to pack things likely since taking care of things is the last thing you want to think about when enjoying your short summer getaway. Bring and carry only the most important things you'll need.
3. Use a sunscreen
Even if you might think that you'll get to take your time inside at a local Siloso beach bar and wait for the cool afternoon, it's still a must to use sunscreen. Whenever you're going outdoors to take a short dip swim, you don't want to deal with the harsh ultraviolet rays that can cause damage to your skin. A high SPF level is often the best choice if you're planning to take swimming at noon.
4. Know the navigation back to your accommodation
After spending your afternoon glancing at the sun or inside a sea view restaurant in Singapore, it's time to head back to your hotel accommodation. Learning about how you can get back might sound cliche. However, there are some occasions that happen when you don't see any other transportation to help you get back to your accommodation.
If you are looking for a Sentosa brunch restaurant and bar, visit Coastes for more info.