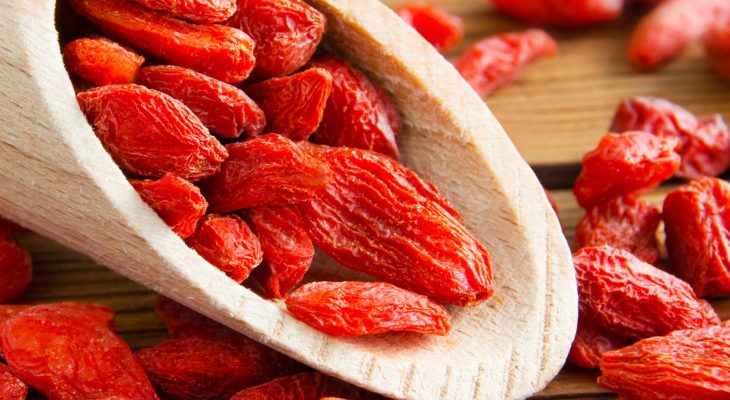 This red fruit comes from China, where it has been used for thousands of years as part of its traditional medicine. Its properties include:
They have a high level of protein
Regarding their calories, they contain about 270 kcal per 100 grams
They contain a high level of antioxidants (beta-carotene)
They are very rich in vitamins C and vitamin B1, B2, and B6
Due to its tryptophan content, it is an excellent natural remedy to relax
They provide amino acids and minerals such as iron, zinc, magnesium, calcium, copper, phosphorus, or selenium
Goji Berries Side Effects
Its consumption is contraindicated for pregnant women
They can interact with the use of other herbs or medications such as blood thinners
They can cause hypertension, dizziness, and digestive problems
They should not be consumed by people suffering from allergies to pollen or a similar type
Due to its selenium content, it is not recommended for pregnant women
Cadmium, copper, lead, and pesticides
Goji Berries Contain Pesticides.
According to the OCU study, they are not toxic, but they do have long-term side effects that we must know: This is what stands out about the chemical compounds of Goji Berries:
Cadmium: it is 
Above the legal levels, which is 0.05 mg/kg. One of the consequences of excessive consumption of cadmium is to affect the production of sex hormones and bone density loss
Copper in high levels: 7.55 mg / kg and 9.71 mg / kg
Pesticides: 
About 13 different pesticides have been detected; some of them are prohibited, like Fenpropatrin
The goji berries are small red fruits that have become very popular because of their benefits and can be seen in stores, nutshop.com etc. One of them is weight loss; since its high fiber content favors the feeling of satiety, they are also diuretic and purifying, so they help eliminate toxins and prevent fluid retention.
Also, they accelerate the burning of fat, regulate blood glucose levels and reduce anxiety, making them ideal for weight loss.
How do you consume them?
Infusions: Soak a handful of goji berries in a liter of hot water; you can take it during the day, preferably before meals
Juices: You can consume the berries alone or mix them with low-sugar fruits
Desserts: Mix it with other fruits
As nuts: Consume a handful (about 30 grams) between meals as a snack
Capsules: in natural pharmacies, there are Goji berry extract capsules