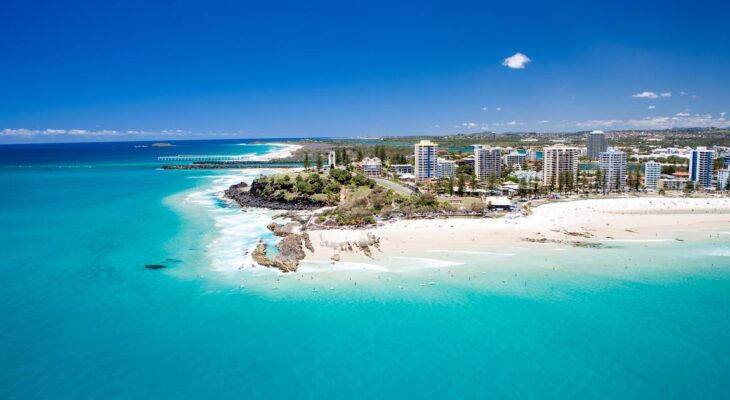 When it comes to exploring the breathtaking tourist destinations in Australia, Coolangatta is an absolute gem that should not be overlooked. Nestled along the stunning Gold Coast in Queensland, Coolangatta offers an exquisite blend of pristine sandy beaches that stretch as far as the eye can see, surrounded by lush hinterlands bursting with heaps of flora and fauna. Immerse yourself in the vibrant local culture, where you can indulge in delectable cuisine, discover hidden art galleries, and experience the lively atmosphere of bustling markets. 
With its unparalleled natural beauty and enchanting atmosphere, Coolangatta is truly a destination that promises unforgettable memories and captivating experiences. Here are some must-do's to put on your bucket list when you visit this fantastic location.
Explore the Beaches
Coolangatta is known for its stunning beaches, each offering a unique experience. Snapper Rocks is renowned for its excellent surfing conditions, and Rainbow Bay is perfect for families, with calm waters and plenty of picnic spots. Don't miss the chance to walk the coastal path from Coolangatta to Point Danger, where you can stand in both New South Wales and Queensland at the same time! If you're worried about the water being too cold, don't worry – you can still take a stroll at dawn or at sunset and enjoy seeing the coastline. On a clear day, you may even see Surfers Paradise's skyline.
Visit the Hinterlands
A short and scenic drive from the stunning beaches of the Gold Coast will transport you to the lush hinterlands, a tranquil oasis of natural beauty. Immerse yourself in the captivating Springbrook National Park, where you'll discover enchanting waterfalls cascading through verdant rainforest trails, leading to breathtaking lookout points that offer panoramic vistas. For a delightful day trip, venture to Mount Tamborine, a charming destination brimming with local artisan galleries showcasing exquisite craftsmanship, award-winning wineries offering tastings, and artisanal cheese factories where you can indulge in delectable dairy delights.
Dine At Cooly Breeze Rooftop
The Gold Coast is a food lover's paradise, and Coolangatta is no exception. Cooly Breeze Rooftop presents a truly captivating and unforgettable gastronomic experience that caters to both locals and tourists alike With an eclectic Mediterranean-flavoured menu, every dish is a delightful fusion of flavours, textures, and aromas that will spoil your taste buds. Indulge in an extensive selection of classic drinks, meticulously crafted to perfection, or explore their beach-inspired Signature Cocktail collection for a refreshing twist.
But it's not just the food and drinks that make this seafood restaurant gold coast truly exceptional. Nestled in the heart of Coolangatta, this rooftop oasis offers breathtaking, panoramic views that showcase the stunning beauty of the surrounding area. As the sun begins to set, you'll find yourself in a prime spot to witness a mesmerising display of colours painting the sky, creating a truly magical atmosphere.
The experience at Cooly Breeze Rooftop goes beyond just the culinary delights and scenic views. It's a place where friends and family can come together, creating unforgettable memories while enjoying good food, great company, and the vibrant energy that fills the air. So, whether you're a local looking for a new favourite spot or a tourist seeking an extraordinary dining experience, Cooly Breeze Rooftop is the ultimate destination to indulge in the finer things in life.
Enjoy Coolangatta's Nightlife
As the golden sun sets over Coolangatta, casting a warm glow on the sparkling ocean, this picturesque seaside town truly comes alive with its vibrant nightlife. Immerse yourself in the energetic atmosphere by stepping into the iconic Coolangatta Hotel, a historical landmark that has been a hub of entertainment for decades. As you enter, you'll be greeted by the captivating sound of live music, filling the air and creating a truly unforgettable experience. 
Whether you're a fan of rock, jazz, or even acoustic tunes, the Coolangatta Hotel offers a diverse lineup of talented musicians who will serenade you with their soulful melodies. The dance floor, alive with energy and movement, beckons you to show off your inner dancer and sway to the rhythm of the night. If you're seeking a different vibe, venture into the local clubs scattered throughout the town, where you'll find an eclectic mix of music genres, pulsating beats, and a bustling dance floor that invites you to let loose and dance until the early hours of the morning. Coolangatta's nightlife scene is a delightful fusion of music, laughter, and camaraderie, providing an enchanting experience that will leave you with cherished memories of nights spent under the starry skies by the ocean.
Shop at the Local Markets
Make the most of your visit to the Gold Coast by finishing off with a delightful exploration of the local markets. Immerse yourself in the vibrant atmosphere as you wander through the Coolangatta Art and Craft markets, where you'll discover a treasure trove of unique, handmade items crafted with love and care. Indulge in the sensory delights of the Marine Parade markets, where an abundance of fresh local produce awaits you, ready to tantalise your taste buds. Whether you're seeking to stock up on locally made products or find the perfect memento to take back home, the local markets have something special for everyone.
Conclusion
Coolangatta is more than just a beach getaway. It's a captivating destination that offers a myriad of experiences for every traveller. Picture yourself unwinding on the pristine sandy beaches, feeling the gentle sea breeze on your skin. As you explore the lush hinterlands, you'll discover hidden gems nestled amidst breathtaking natural beauty. Indulge your taste buds in the vibrant local cuisine, savouring the diverse flavours and culinary delights. Immerse yourself in the rich local culture, where art, music, and community come together to create a truly vibrant atmosphere. 
Don't forget to visit Cooly Breeze Rooftop, where you can indulge in a true Mediterranean gastronomic experience that will tantalise your senses and leave you craving for more. A trip to Coolangatta is not just a holiday, it's an unforgettable journey filled with moments that will stay with you forever.