Combination Of Pork Schnitzel With The Tasty Potato And Mayonnaise Salad
Pork Schnitzel is the most amazing dish with a unique sizzling taste of pork. It is considered the most demanding dish in Central Europe. The method of cooking is also very simple. You need to have the necessary ingredients for cooking an authentic dish of pork schnitzel. Schnitzel can be made with many other ingredients, such as chicken, mutton, and beef. Especially, kids love to have pork schnitzel. 
Most people use pork loin for cooking schnitzel. But, this part becomes very dry when you enter the process of deep-frying. So it is safe to use tenderloin pork. It is soft and tender. And it is cooked faster than the normal pork loin. You can add a side dish to your pork schnitzel, such as mayonnaise salad, smashed chili potatoes, baked potatoes, and rice. So why wait to learn how to cook pork schnitzel and bring smiles around your dining table.
Ingredients 
Here are the ingredients which are required to make pork schnitzel:
Two pieces of pork tenderloins. They must be 1 pound each. 

Two cups of flour, about 300g

3 to 4 eggs

Salt 

Pepper powder

3 cups of breadcrumbs
Here are the ingredients which are required to make potato and mayonnaise salad:
8 to 10 souse cucumbers

1 cup of peas and carrots

1 kg potatoes

½ cup of sweet corns

1 cup of sour cream

3 to 4 tablespoon pickle juice

One large sautéed onion

1 cup of mayonnaise

Pepper Powder

Salt
Procedure to make a salad
The first step is to make the amazing taste salad, as it takes around 30 minutes to absorb the flavourings. Cooling is necessary as this salad is served in chilled form. Here comes the steps:
Step 1 – The potatoes are boiled with their skin in salted water. It would be best to remember that the potato does not get overcooked as it should have a waxy appearance. You must boil the potatoes for 20-25 minutes for amazing results.

Step 2 – Remove the skin of the potatoes. After removing the skin, you have to dice the potatoes into small pieces. 

Step 3 – Add all the required ingredients in a bowl with pepper and salt seasonings.

Step 4 – Mix well and chill it in the freezer for a minimum of 30 minutes.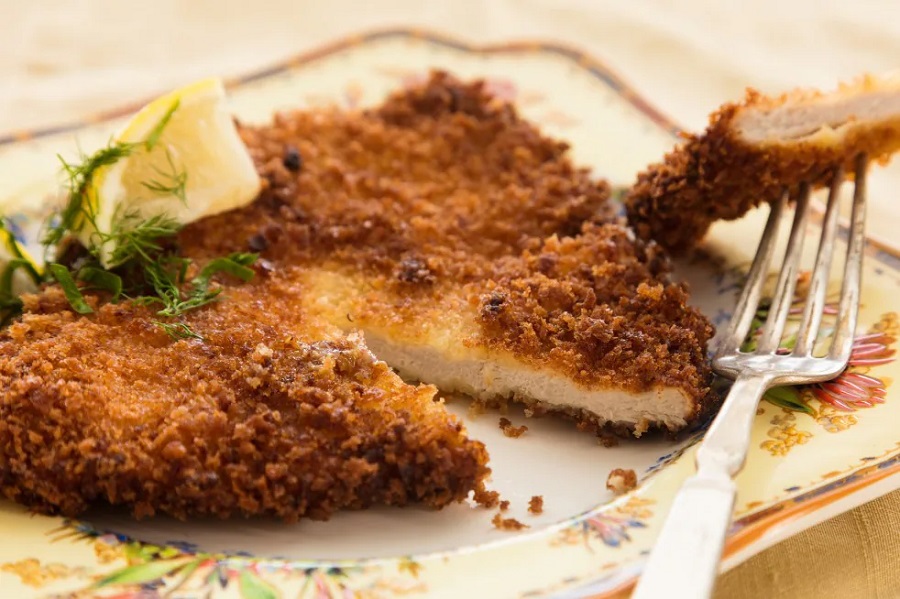 Procedure to make a pork schnitzel
Here are the steps to make pork schnitzel:
Step 1- Clean the pork tenderloin by removing the silver skin.

Step 2- Chop it into big pieces and pound it. 

Step 3- Pepper and salt is added along with the flour.

Step 4 – A mixture of 3 to 4 eggs is created separately.

Step 5- Preparation of breadcrumbs

Step 6- First, coat the pieces into eggs and then in breadcrumbs. 

Step 7- Fry it in a low flame. 
Thus, once the colour of the pieces turns golden, your pork schnitzel is ready. Then serve hot pork schnitzel with a chilled salad of potato and mayonnaise. Make your kids fall in love with pork schnitzel.